Featured events
John Vincent Mahady: I Heard You the First Time! A Waiter's Musical Memoir
Friday, September 6, 7:00 PM | Doors Open. 7:30 PM | Performance. Francis W. Parker, Heller Auditorium (330 W Webster Ave) Members & guests—$15. To register, please click here or call the Village office at 773.248.8700.
After an incredibly successful show in 2018, John returns to the beautiful Heller Auditorium Theater to debut his newest one-man show! Inspired by the autobiographical book John is writing about his 30 plus years as a waiter at Mon Ami Gabi, this show spotlights some of his hilarious personal restaurant stories, peppered with a dozen musical numbers that showcases The Great American Crooners Songbook, with Beckie Menzie as the musical director. While general admission tickets are $35, members of the Village and our guests can receive this exclusive discount of $15 per ticket!
Bridging Generations All-Hands Volunteer Day
Saturday, September 7, 9:00 AM—4:00 PM (Volunteers will register for 2-4 hours of service). Various Locations.  Members & guests—free. To register, please call the Village office at 773.248.8700.
The Bridging Generations Board invites Village members and guests to participate in a day of volunteer activities for local non-profit orgs, including Lincoln Park Community Services, PAWS Chicago, Lakeview Pantry, and the Lincoln Park Conservancy. Participants will be organized into groups and will spend the day giving back and connecting with individuals of all ages. Please
click here
for details about the tasks each team of volunteers will be undertaking, including the time requirements and physical activity level involved.
Sex at Our Age
Thursday, September 19, 5:00—7:00 PM. Artis Senior Living of Lakeview (3535 N Ashland Ave). Members & guests—free. To register, please click here or call the Village office at 773.248.8700.
As we age, our needs related to intimacy and sexuality can change. Understanding how aging affects these needs and how to communicate our needs can improve how we feel about ourselves and those around us. Learning more about our intimacy and sexuality as we age can encourage us all to discuss this topic openly and advocate for our needs where necessary. Come join us for a lively, professionally led, discussion about all things related to sexuality and intimacy!
Click here
to view a flyer for this program.
The New Age of Dying and Death: Fifty Years After Kubler-Ross
Monday, September 23, 5:30 PM | Registration. 6:00—7:00 PM | Program. Advocate Illinois Masonic, Olson Auditorium (836 W Wellington Ave) Members & guests—free. To register, please click here or call the Village office at 773.248.8700.
In her 1969 book,
On Death and Dying
, Elisabeth Kubler-Ross revealed the widespread denial of death and lack of understanding of the dying process in America. Motivated by her groundbreaking work, we have seen the growth and acceptance of hospice and palliative care. Now we have medical treatments that can prolong life, and also prolong the dying process. While we are benefitting by living longer than ever, even with serious chronic illnesses, we face more ethical and personal questions about dying and death than ever. This panel will discuss some of the critical issues in the contemporary end-of-life experience of individuals, family, loved ones, care receivers, and care providers. Panel will be moderated by Loretta Downs – Founder, Chrysalis End-of-Life Inspirations, and panelists include Rev. Myron Erickson – Vice President, Mission and Spiritual Care; Kimberly Callinan – Chief Executive Officer Compassion and Choices; and H. Peter Steeves – Professor of Philosophy and Director of the Humanities Center at DePaul University.
Too Soon to Forget Documentary Screening and Q&A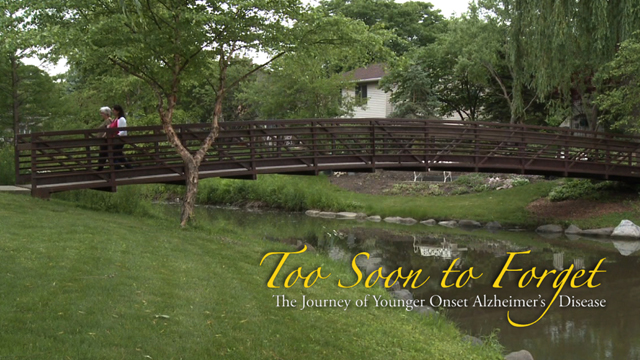 Thursday, October 17, 5:30 PM | Reception, 6:00–7:30 PM | Screening and Q&A. Chicago Methodist Senior Services, Wesley Place (1415 W Foster Ave).. Members & guests—free. To register, please click here or call the Village office at 773.248.8700.
Understanding the emotional experience of Alzheimer's disease helps each of us to be more empathetic and supportive. The documentary
Too Soon to Forget: The Journey of Younger Onset Alzheimer' Disease
shows the experience of nine families living with Alzheimer's disease in mid-life: the isolation, the adjustments, and the healing power of community. Their stories show that all of us have a role in supporting those living with Alzheimer's disease. Following the film, there will be a Q&A with guests speakers Dr. Neelum Aggarwal and Susan Frisk, LSW,MSW, from the Rush Alzheimer's Disease Center (their support group, Without Warning, developed the film).
Back to the top